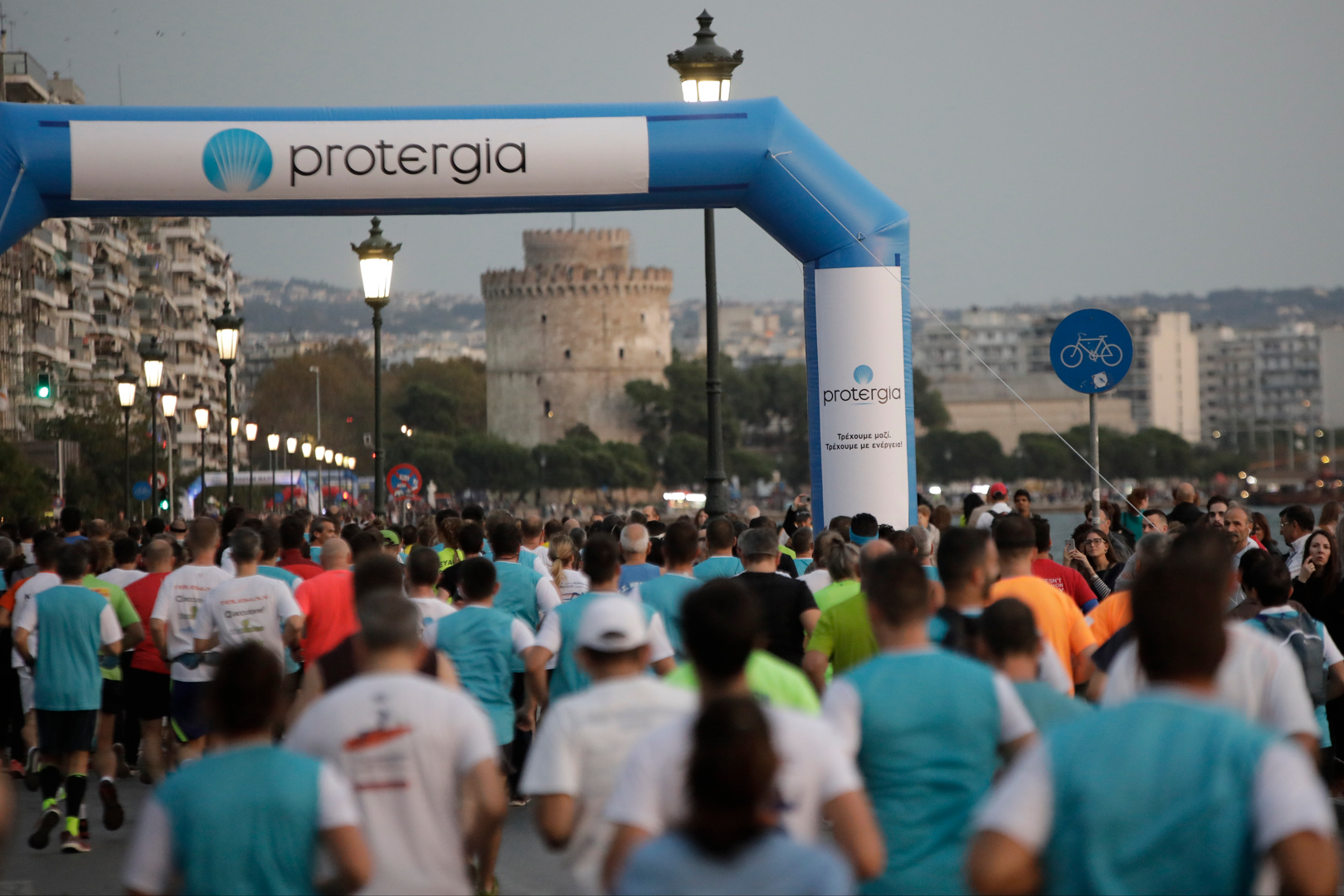 Amazing race records, the smiles of 18.000runners and the energy of name sponsor Protergialit up Thessaloniki, during the biggest night street party of Greece. Protergia 7th International Thessaloniki Night Half Marathon offered a unique race experience to all participants, aged 12 to 86, accompanied byunprecedented racing performances and impressive numbers of registered runners.
Long-distance running champions, Olympic and Paralympic champions, people with disabilities, local and national celebrities, as well as students, enjoyed participating in a race that took place in the colorful Thessaloniki's city center.
The biggest night party of Greece broke all the recordsonce again, with 16.377 registered runners and even more participants who, due to the excellent weather conditions, decided at the last minute to join in and run, even without having the runner's kit.
Impressive was also the number of the countries that were represented, with runners from 56 countries and five continents participating in this year's race (Afghanistan,Albania,Argentina, Armenia, Belgium, Bermuda, Bulgaria, Canada,Chile, Republic of the Congo, Croatia, Cyprus, Egypt, Estonia, France, Finland,FYROM,Germany, Georgia, Greece,Guyana,Hungary, India, Iraq, Iran, Ireland, Israel, Italy, Kazakhstan, Kenya, Lithuania, Lebanon, Libya, Morocco, the Netherlands, Norway, Pakistan, Poland, Portugal, Romania, Russia, Serbia, Slovakia, Slovenia, Spain, Sweden, Switzerland, Syria, Turkey, U.K., Ukraine, U.S.A, Uzbekistan, Venezuela,Yemen).
The HalfMarathonracebeganat 18.45 fromThessalonikiPort Authority and the FinishLinewas at the WhiteTower, the most recognized landmark of the city.
The winner of the race was Sammy Kipngetichfrom Kenyawith 1:06:09, leaving in second place Hosea KimeliKisorio, also from Kenya, in 1:07:10, who came second for a second time in a row, whilein third place came the fastest Greek runner of the race, GiorgosMenis, with 1:07:55.
At the women's race Rania Rembouli triumphed, with a new race record of 1:14:30, over last year's winner Vivien JeropeKemboi from Kenya (1:17:39), with FoteiniDagkli-Pagkoto (1:20:47) coming in third place.
The 5km Health & Power Walking Race, a parallel race that promotes a healthier lifestyle, began at 21:15 from Thessaloniki's Town Hall. For the third consecutive year, and the fourth time overall in the race's history, Jason Ioannides came in first (15:00), with Nikos Stamoulis(15:12) and GiorgosStamoulis(15:22) completing the podium.
In women's race, Katerina Deli was the fastest (17:49), leaving behind in second and third place respectively Margarita Dina (18:01) and Georgia Konstantinopoulou(18:06), who won the bronze medal for a second year in row.
An exceptional life message was sent by the participation of runners such as the Special Olympics champion Nikos Toulikas and the former triathlon champion Maria Sampanidou, who ran for the first after suffering a serious stroke two years ago, joining the running teamof the Exceptionally Distinguished Greek Athletes Association (SEEDA) that supported her during her rehabilitation period.
Read more: Thessaloniki Night Run light up the city once again and offered a once-in-a-lifetime experience to...